Current Account
An account to suit your day-to-day needs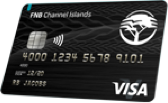 View and transact on your interest bearing FNB Channel Islands Current Account
any time, from anywhere in the world.
Current Account
---
An interest bearing Sterling Current Account for day-to-day transactions. Maintain a minimum balance of £2,500 and qualify for a waiver on your monthly account fees.

Transact internationally
Account issued with an internationally accepted Debit Card

Interest
Earn interest on balances over £5000.
Read more

World-class service and support
Via your Private Banker, Relationship Manager or our dedicated FNB Channel Islands Service Suite

Free subscription
Free Online Banking, inContact notifications and the FNB Channel Islands App
Key features
and benefits
---
Receive statements or download these online

inContact messaging to track flow of funds

Transact, pay bills and manage account

Earn competitive interest

Qualify for a waver on monthly fees
Applying made easy
---
Current Account
Qualifying criteria
You need to be 18 years or older
How to get it
Apply now!
Other ways to apply
Contact your Private Banker or Relationship Manager

Not an existing FirstRand customer? Please contact the FNB Channel Islands Service Suite for more information

UK (international):
+44 148 174 8138
SA (local):
087 730 6010
SA (international):
+2711 369 1500
FirstRand Bank Limited Guernsey Branch trading as FNB Channel Islands is regulated by The Guernsey Financial
Services Commissionand licensed under The Banking Supervision (Bailiwick of Guernsey) Law, 1994