Current Account
Save + transact in one place
Designed to give you immediate access to your funds and for your day-to-day transactions.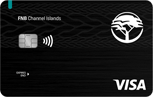 Attached Mastercard Debit Card

Available in GBP(£) only

No monthly account fee (if a balance of £5,000 is maintained)
Current Account
---
Maintain a balance of £5,000 and qualify for a waiver on your monthly account fees.

Interest
Earn interest on your FNB Channel Islands Current Account

Transact internationally
Account issued with an internationally accepted MasterCard Debit Card

Free subscription
Free subscription to inContact and Online Banking
Applying made easy
---
Current Account
Qualifying criteria
You need to be 18 years or older
How to get it
Apply now!
Other ways to apply
FNB Channel Islands
UK (international):
+44 148 174 8138
SA (local):
087 730 6010
SA (international):
+2711 369 1500

Contact your Private Banker

Not an existing FirstRand customer? Please contact the FNB Channel Islands Service Suite for more information
Documents needed
South African ID (for SA citizens) or smart ID card

Proof of residence (not older than 3 months)

Completed application form

Completed Source of Wealth Document
FirstRand Bank Limited Guernsey Branch trading as FNB Channel Islands is regulated by The Guernsey Financial
Services Commissionand licensed under The Banking Supervision (Bailiwick of Guernsey) Law, 1994